.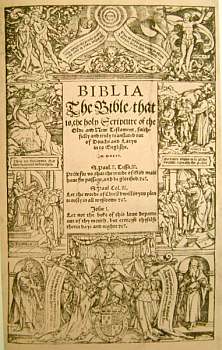 About This Era and Its Bibles
The collection of Jewish and early Christian holy books that has come down to us as the Bible was originally written in Hebrew, Aramaic, and Greek, between the 4th century B.C. and the 2nd century A.D. Saint Jerome translated these original books into Latin in the fourth century A.D. and for more than a thousand years his Vulgate (meaning "of the people") text was, with very few exceptions, the only Scripture that was available to the faithful.
RIGHT. Titlepage of the first printed English translation of the Bible, Marburg, Germany, 1535. Less than 65 copies, all defective, survive today.
Translation into vernacular tongues began in 1466, with the first German Bible, and within two decades ten different language versions of the Bible were in print. But the first English language translation did not appear until Tyndale's New Testament of 1525, which was immediately suppressed. Another ten years would pass until Miles Coverdale produced the first complete English Bible in 1535. The sixteenth century would see a number of important translations, and early in the 17th century the great King James version became standard for Protestants while at the same time English-speaking Catholics too were able for the first time to read the Scriptures in their own language in the Douay Bibles.
I am proud to present in this catalog fine representatives of these great early English translations. See also my other leaf catalogs for early Bible leaves in Hebrew, Latin, Greek, and several other languages, as well as other fine early imprints in English.
Please note that I offer these leaves as examples of early printing; accordingly their specific content is of my choice, and is dependent solely on what is in stock when I fill your order. Orders for leaves containing specific books, chapters, or verses cannot be filled at this time, except of course in those cases where the exact content is stated in the catalog description.
For more information about early printing and how to collect and care for leaves, please select here.
About This Catalog
All leaves in this catalog are unconditionally guaranteed to be genuine and correctly described and attributed. Each leaf comes with a written identification, certifying authenticity and specifying complete bibliographical data (author, title, date and place of writing or of printing and printer), plus other relevant descriptive and historical information, plus attribution to standard reference works as applicable.
No complete Bibles were vandalized to obtain these fine leaves. Rather, signatures or individual pages were rescued from books that were incomplete, or otherwise defective, in accordance with the generally accepted principles of the antiquarian book trade, which state &quot if a book is already incomplete, it is considered acceptable to remove and sell parts of the book.&quot Edwin V. Glaser, quoted in A B Bookman's Weekly.
Don't be astonished by my low prices, these are the finest quality original leaves that are obtainable, and which you might find elsewhere priced at much greater cost. It is my policy to price my items based on what I believe to be their fair market value. I do not set prices at absurdly inflated levels to take advantage of novices or "investors"; nor do I employ the common ploy of starting with an unrealistically high price in order to "negotiate" a phony discount later. It has always been my policy to present my catalog items at "wholesale to the public" prices. Therefore all catalog items and quoted prices are net, and are not subject to further discount, either for dealers or in consideration of quantity orders. As over a third of our catalog orders are from dealers buying for resale, at our stated prices, we have every confidence that this policy maintains an ethical standard of integrity and fairness to all.
Pictures of Cataloged Items
Digital photos are available of the items in this catalog. To view them, click on the small thumbnail illustration in the item description. You will then see on your screen a full-size version of that illustration. You can return to the catalog by using your browser's "BACK" command. All illustrations are of actual specimens being offered for sale, and were chosen as most representative of the items. The photos may depict a full leaf, a grouping of leaves, or a detail close-up. All leaves are complete and undamaged as noted.
Please note that the camera flash tends to exaggerate foxing and spotting, some degree of which is normal in old paper and which is not so dramatic in person!
Glossary of Terms Page | Collector Information Page | Want List Page | Home Page
How to Order from This Catalog
My catalogs use a "shopping cart" system, which will take you from each catalog to a confirmation page and when you are ready, to the order checkout page. To use it, please be sure the "javascript" and "accept cookies" functions are enabled in your browser.
To order a catalog item, please enter the quantity of leaves you want in the box in each item's description, then press the "Add to Cart" button. Some items are one of a kind and do not have a quantity option; for these simply press the "Add to Cart" button.. You will then see your "shopping basket" and its contents and total. You may remove selected items at any time, and use your browser's "Forward" button to view the cart page whenever you wish, and your "Back" button to return to the catalogs.
When you are ready to place your order, simply click "submit" on the completed shopping cart checkout page, and it will be e-mailed to me. As soon as I receive your order, I will confirm the availability of your selections via return e-mail, with your invoice for the total amount due, and I will reserve your confirmed selections for receipt of payment.
I accept checks, money orders, and all credit cards through PayPal, the free, safest Internet payment service. If you choose this payment option on your order form, I will request PayPal to send you a bill for the amount of your confirmed order. As soon as your payment is received, I will ship your order to you.
Postage per order addressed within the United States is just $3.85. Postage will be added to overseas orders at my actual cost. There is a seven day return privilege on all items.

Your comments are always welcome, as are your inquiries, if you have questions about these remarkable historic collectibles. We value our customers, and appreciate the confidence you place in us when ordering from our on line catalogs. We strive to merit your patronage and to enrich your collecting experience through accurate, knowledgeable descriptions, honest pricing, courteous service, and timely order filling. Our Glossary of terms web page may be reviewed for definitions of the descriptive terminology used in our catalogs and in the rare book trade generally. You can go to our e-mail want list form for special requests. Enjoy your browsing!
---
Scenes in a 16th century book printing establishment. Left to right, the wood engraver, cutting a block to print an illustration; the type founder, casting the movable letters used to print the text; and the paper maker, screening the cloth pulp that will be dried to come the book's pages. German woodcuts, 1568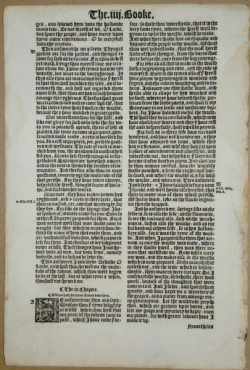 Leaves from Coverdale's Superb "Great Bible": the Third Printed English Bible

The first English translation of the Bible was printed in Germany in 1535. It was the work of the translator of this present edition, the gentle scholar and later Bishop of Exeter, Miles Coverdale (1488-1568). Soon following was the more aggressive translation of 1537 by the zealous Protestant convert "Thomas Matthew", the pseudonym of John Rogers (1500? - 1555). As the Reformation instituted by King Henry VIII gained in strength, the need was felt for a distinct, dignified version of the Bible to meet the needs of both the reforming and conservative wings of the Church. The able Coverdale was appointed by the King to carry out this important task. Fortunately he possessed those traits of moderation and courtesy that are "the essence of the Church of England at its best." He deleted Roger's aggressively anti-Roman notes of the 1537 edition; this revised text relies on the recent advances in Biblical scholarship found in the Complutensian Polyglot of ca. 1520, the Greek text of the New Testament produced by Erasmus in 1534, and Munster's Hebrew-Latin Old Testament of 1535.

The result was titled The Byble in Englyshe of the largest and greatest volume...by commaundement of oure moost redoubted prynce and soueraygne Lorde, Kynge Henry the viii supreme head of this his churche and realme of England...This translation departs from the Germanic idioms derived from Luther and uses more Latin-based phrases, foreshadowing the Authorised translation of 1611. This work is also known as "Cromwell's Bible", as Coverdale worked under his direct patronage, or as "Cranmer's Bible" although the Archbishop is thought not to have been involved in the work apart from contributing his Prologue, which first appeared in the April, 1540 edition.

Seven essentially identical editions of the Great Bible were printed at London in 1540 - 41, in conformity with Henry VIII's royal order instructing every clergyman in the Kingdom to provide "one boke of the whole Bible of the largest Volume in Englysshe and have the same sett up in summe convenient place within the churche that he hath cure of, wherat his parishoners may most commodiously resort to the same and red yt." This Bible uses the original method of dividing the verses into chapters and lecterns, following Hugo de St. Cher's standard revision of Jerome's Vulgate translation.

We are proud to be able to offer specimens of this very important and quite rarely offered early English Bible. Printed in an unusually large Black Letter type, the leaves are as visually inspiring as their content, which is in the charming idiom of sixteenth century old English. The leaves are large folio size, 10" x 14½", double columns of English language text in large Black Letter type. These leaves from the Seventh Impression, printed December, 1541 and are referenced in Herbert, The English Bible, as no. 63. A typical leaf is shown to the Right; click on it to enlarge for more detailed viewing.

Large folio size, 10" x 15", double columns of English language text in large Black Letter type. We are delighted to be able to offer fine condition specimens of the final large folio printing of this most important early English Bible. Quite scarce and highly collectible.
Condition is Good to Very good or better. Price per leaf. . . OUT OF STOCK

Large folio size, 10" x 15", double columns of English language text in large Black Letter type. For the book collector who desires an inexpensive leaf from this highly significant Bible, as a specimen of some of the earliest English printing obtainable today. Click on the link here to view a discussion of the Apocrypha, the so-called "hidden" books of the Bible, whose printing, once universal in all Bibles, has been out of favor since 1827.
Condition is Good to Very Good or better. Price per leaf. . . OUT OF STOCK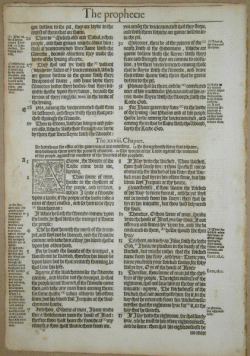 Leaves from the Magnificent "Bishops' Bible"

Matthew Parker (1504 - 1575), Archbishop of Canterbury, organized this monumental translation in an effort to counter the popularity of the 1560 Geneva translation, with its overt hostility to the Church of England. The committee of translators assigned to the task included the most well-known Biblical scholars of Elizabethan England, as well as a number of Bishops, hence the familiar name of this edition. It is also sometimes called the "Treacle Bible" for its eccentric wording of Jeremiah VIII:22. The work of translation appears to have been carried out in separate sections, not unlike the great King James version of 1611.

The result appeared as The Holie Bible, conteyning the olde Testament and the newe, and was printed by Richard Jugge at London. In correcting the Great Bible, both the Hebrew and Greek originals were consulted. The influence of the Geneva translation of 1560 can be seen, particularly in the Prophetical books. Castalio's Latin translation of 1551 is also known to have been employed to produce a more error-free English version. The alterations in the New Testament show original and vigorous scholarship. No effort was spared in the execution of this sumptuous edition, printed in 1572, which abounds in decorative initials and superb typography and is generally considered the most finely produced of all English "great folio" Bibles. This milestone in the history of Biblical printing, Herbert 132, shows slight textual variations from the First Edition of 1568. While the Old Testament was reprinted virtually verbatim, the New Testament shows further careful revision, largely prepared by Giles Lawrence, Professor of Greek at Oxford. This 1572 edition was produced in conformity with the April, 1571 order of the Convocation of the Province of Canterbury, that copies of this translation should be placed in every cathedral and, as far as possible, in every church in England.

In true large folio format, each leaf measures 10" x 14½". The text is set a most handsome large Black Letter English type face, arranged in double columns, with one or more large historiated initials per leaf. A typical leaf is shown to the Right; click on it to enlarge for more detailed viewing. Condition is quite fine. We offer these exceptional leaves from 1572 as follows.

Double columns of English language text in large Black Letter type, with historiated initial letter; large folio size, 10" x 14½". We are pleased to be able to offer specimens of this magnificent work of Elizabethan era Biblical scholarship and printing.
Condition is quite fine with good margins. Due to a fortunate purchase I can offer these original four and a half century old leaves at a special price. Per leaf only. . . 19.95

Please indicate your order quantity here:

Double columns of English language text in large Black Letter type, with historiated initial letter; large folio size, 10" x 14½". These allegedly "hidden" books were an integral part of the Christian Bible for over a thousand years, but faded to an odd, only semi-official status during the Protestant Reformation. Today, they are omitted altogether from most Bible printings.
Condition is quite fine with good margins. Price per leaf . . . 14.99

Please indicate your order quantity here:

As above, double columns of English language text in large Black Letter type, with historiated initial letter; large folio size, 10" x 14½". A mixture of fifteen Old Testament leaves and ten Apocrypha leaves at a special lot price for study or resale.
Condition is quite fine with good margins. The 25 Leaves, each with its written identification slip. Just three lots available. . . 299.00

Please indicate your order quantity here:
| | |
| --- | --- |
| | |
LF-3285. Original Old Testament Leaf (page) from The Bible. Translated according to the Ebrew and Greeke, printed by Christopher Barker at London, England in 1583. Herbert, The English Bible, No. 178. Large folio size, measuring 11" x 15½". Double column Black Letter English language text with sidenotes.
The Geneva Bible first appeared in quarto format in 1560, the work of reformers who had fled to Geneva to escape persecution in England during the reign of Queen Mary. Geneva was the stronghold of Calvinism, where the translators had access to the most advanced Biblical scholarship of the day. It was the first English Bible in which chapters are divided into verses. An important feature was the marginal notes, often of a puritanical character. King James I took personal exception to these notes, with their bitterness toward the Church of England, and his dislike of them is partly responsible for the later translation that bears his name. Though never officially adopted, the Geneva version was the standard English translation for three generations, familiar to Shakespeare, Bunyan, and the soldiers of the Civil War. Thus it is of cardinal importance for its influence on English literature, language, and thought. This edition is the most sumptuous printing of the Geneva translation.
While there were 140 editions of this very popular Bible, none approaches this beautiful edition in sheer size and quality of execution. Each leaf offered here has one or more large historiated initial letters as well. A typical leaf is shown to the Right; click on it to enlarge for more detailed viewing.
Condition is bright fine with wide margins, with some very faint old watermarking. (None of the leaves in this lot is from the Apocrypha). A fortunate purchase allows me to offer this important leaf at a most favorable price, while they last, only, each, . . . 25.00

Please indicate your order quantity here:
The Bible of the Pilgrims (?)


ABOVE. Scene in a 17th century Dutch printing shop. Contemporary engraving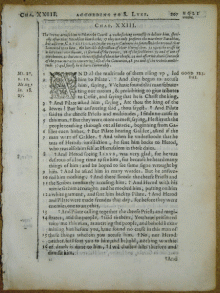 The Second Edition of the Catholic New Testament in English

A selection of original leaves from The New Testament of Iesvs Christ faithfully translated into English . . . By the English College then Resident in Rhemes. Set forth the second time, by the same College now returned to Doway, printed in 1600 at Antwerp, the Netherlands, by Daniel Veruliet. Quarto size, 6" x 8¼" Roman Letter text in double columns with side notes. Herbert 259. A typical leaf is shown to the Right; click on it to enlarge for more detailed viewing.

The Second Edition of the Roman Catholic New Testament in English, which was first printed at Rhemes in 1582. The 1582 edition marked a profound departure from keeping the scriptures in a Latin tongue, not out of conviction, but of necessity, bearing in mind the availability of the Geneva Bible in particular, with its strongly Protestant notes. In some ways this Roman Catholic translation of the New Testament is parallel to the Protestant Geneva Bible, for both of them were produced by religious refugees who carried their faith and work abroad. Since the English Protestants used their vernacular translations, not only as the foundation of their own faith but as siege artillery in the assault on Rome, a Catholic translation became more and more necessary in order that the faithful could answer, text for text, against 'the intolerable ignorance and importunity of the heretics of this time'.

This first Roman Catholic translation was rendered into English from the Latin Vulgate by Gregory Martin, under the supervision of William Allen (afterwards Cardinal Allen), and of Richard Bristow. According to the Douay Diaries, Martin began the translation in October 1578 and completed it in March 1582. The translation adheres very closely to the Latin, though it shows traces of careful comparison with the Greek. But its groundwork was practically supplied by the existing English versions, from which Martin did not hesitate to borrow freely. In particular there are many striking resemblances between Martin's renderings and those in Coverdale's diglot of 1538. Further, by a principle first enunciated by Stephen Gardiner, almost the last Roman Catholic Bishop of Winchester, and Mary's chancellor, technical words were transliterated rather than translated. Thus many new words came to birth in this work. Many of these words now seem familiar enough to us, such as evacuated, gratis, holocaust, victims, not to mention that most Protestant of words, evangelize. The Rhemes New Testament exerted a very considerable influence on the King James version of 1611, transmitting to it not only an extensive vocabulary, but also numerous distinctive phrases and turns of expression. This edition incorporates several significant changes, including a new Approbations and explanatory notes, and the addition of "A Table of Heretical Corruptions" of the Biblical text.

The first edition of 1582, of which the present example is a close reprint, is quite rare; a third edition was produced in 1635, but it would not be until the Challaners revision appeared in 1728 that the Rhemes New Testament would be again printed. The Old Testament would not be available in an English Catholic translation until the Douay version of 1610 was issued. We offer these historic and rarely seen leaves as follows, all in bright, problem-free fine condition with wide margins.

-->

First Edition of the Catholic Old Testament in English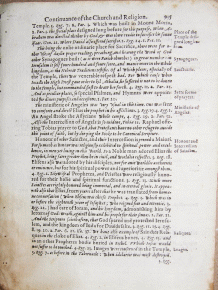 A selection of original leaves from The Holie Bible faithfully translated into English, ovt of the avthentical Latin..., printed by Lawrence Kellam at Douay, France, in 1610. Quarto size, measuring 6¼" x 8½".
Double columns of English language text in Roman letter type, with sidenotes in smaller Roman type.
This very significant leaf is from the first Catholic translation of the Old Testament. It was based on the same sources and was prepared largely by the same hands that produced the Rheims New Testament, and is known with it as the "Douay-Rheims version" of Scriptures. The work is the effort of learned members of the English College at Douai, in Flanders, established by refugees from Protestant England in 1568 The Preface notes that the translation was completed almost thirty years earlier but due to "our poor estate in banishment [from England]... lying by us for lack of good meanes to publish the whole in such sort as a work of so great charge and importance requireth." The translation is based on what the editors called "the most perfect Latin edition", the 1592 version authorized by Pope Clement VIII, for which some textual corrections were made from the 1582 work. The Apocrypha, which had been deleted from the Bible by Protestant Reformers, are included in this edition, as they would continue to be in Catholic tradition. Fine leaves of great significance and finely printed, after the long delay, much in the style of the New Testament translation of 1600. Reference, Herbert 300.

Leaves are in fine condition with some water marking in the lower left corner We offer the leaves as follows:
We are pleased to be able to present a selection of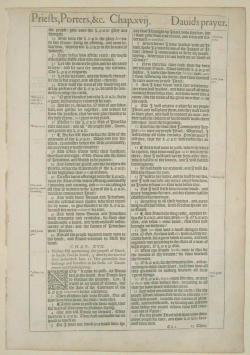 Original leaves from the true Second Folio of the King James Bible. There had been two distinct impressions of the first edition, one printed in 1611 and the other published in 1613. The publication of the latter, which is often called the "Great She Bible" for a misprint in Ruth iii.15, was delayed by Barker for reasons that remain unclear. Apparently some of the 1611 leaves were combined with a new run of leaves printed in identical format in order to produce a few more complete copies. Fry (in A Description of the Great Bible...London, 1865) lists at least four separate revisions of that work, Herbert entry number 319.

This second edition was put to press shortly after the final supplies of 1611 leaves had been exhausted. The First edition appeared in 56 line format, while the present printing was produced in distinctive 72 line format. This scarce edition displays the large format, superb typography and lavish attention to decorative detail that graced the first edition of 1611-13, which was the work of the same printer, Robert Barker, the official printer to the Curt of King James. Reference: Herbert (The English Bible) number 322.

Considered the greatest example of English prose, the King James translation profoundly affected English language and culture for over three centuries. The aim was not to produce a new translation, but to make a good one better'. The Bishops' Bible was taken as a basis and compared with the original tongues and with Tyndale, Matthew, Coverdale, the Great Bible and the Geneva. They also used (though they kept this dark) the Rhemes New Testament. During the previous century immense advances in Biblical scholarship had been made throughout Europe by Protestants, Catholics and Jews. More accurate texts were available, far better grammars and dictionaries had been produced, kindred languages such as Syriac and Aramaic were better understood. In England itself the study of Hebrew had made great strides. About 90 per cent of Tyndale's work and a great part of Coverdale's, survive in the Authorized Version. The Geneva and Rhemes versions, in their different ways, brought a new accuracy to the translation. The Geneva provided pithy phrases, while Latinisms from Rhemes contributed to the majesty of the prose. It has been compared to a great English cathedral: not the work of one period alone, but due to the devoted creation of several generations.

It was indeed fortunate that this majestic translation was achieved during one of the most creative periods in English literature, when the English language as we know it was growing out of medieval usage into prose that rolls like a great cathedral organ played by a master- musician. Macaulay said: 'If everything else in our language should perish it [the Authorized Version] alone would suffice to show the whole extent of its beauty and power.'

No book has had greater influence on the English language or on the English character. For the next three hundred years the majority of English men and women heard it read aloud Sunday after Sunday and, until within living memory, a very large proportion of people read the Bible with steady, life-long devotion in their own homes. And this great quality was carried to America, where its influence has hardly been less.
Sold out at Present
---
We hope you have enjoyed this catalog, and have found its contents useful and informative. Please feel free to e-mail your questions and comments to our address below. We look forward to hearing from you!
---



To continue browsing my catalogs of early leaves, please click on the banners listed below.


Navigate my Website:
Contents ©:2017 Phil Barber.