About This Era and its Newspapers
Were it left to me to decide whether we should have a government without newspapers, or newspapers without a government, I should not hesitate a moment to prefer the latter. -Thomas Jefferson, 1787.
The first era of American printing begins in 1639 and ends about 1830. In the latter decade a technological revolution dramatically changed the art of printing, with the introduction of iron frame printing presses and machine made papers. These earliest printed items are the products of a pre-Industrial Age technology, printed on wooden "Franklin" presses on papers manufactured by a laborious hand process from rags, old clothing, and other newspapers. These wonderfully collectible imprints are charming in their simplicity, survivors of a sturdy era of hard, honest work by skilled crafts people. Interestingly, at this time newspapers and magazines were largely the province of the upper classes, as their high prices put them out of the reach of ordinary people.
For my part I entertain a high idea of the utility of periodical publications; insomuch as I could heartily desire, copies of ... magazines, as well as common Gazettes, might be spread through every city, town, and village in the United States. I consider such vehicles of knowledge more happily calculated than any other to preserve the liberty, stimulate the industry, and ameliorate the morals of a free and enlightened people.- George Washington, 1788 in a letter to Matthew Carey, published of the Philadelphia Columbian Magazine.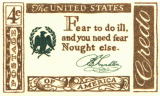 All items from this formative period of American journalism are now scarce to rare. An experienced printer and his apprentices could "pull" no more than six hundred newspapers a day; a circulation of two thousand copies per issue was considered exceptional throughout most of the period. Other than the few specimens saved by libraries, by the newspaper publishers themselves, and by a handful of individuals, all these early papers and magazines ended up discarded or recycled into new paper.
Some British periodicals are also included in this catalog, selected for the significance of ther historic content about America. They are so described where they appear.
It is worthy of remark that newspapers have almost entirely changed their form and character ... They have become the vehicles of discussion, in which the principles of government, the interests of nations, the spirit and tendency of public measures, and the public and private character of individuals are all arraigned, tried, and decided ... they have become immense moral and political engines, closely connected to the welfare of the state, and deeply involving both its peace and prosperity. -Miller, A Brief Retrospective of the Eighteenth Century, published in 1803
About The Catalog Listings
I am pleased to present for your consideration fine examples of rare newspapers, as well as newspapers carrying important historic, social, political, and economic content in these formative years of our nation. All items in this catalog are unconditionally guaranteed to be genuine and accurately described. Any item may be returned within seven days of receipt for a full refund. No reason for return is ever required.They are in fine used condition and are complete with all pages as issued. All papers are free of damage or objectionable defects, unless otherwise described. I am are sure you will be delighted with their exceptional state of preservation. I purchase only the finest condition newspapers that can be found to offer to my valued friends and customers.
These are the finest quality original antique newspapers and magazines, that you might find elsewhere priced at much greater cost. It has always been my policy to present my catalog items at "wholesale to the public" prices. Therefore all catalog items and quoted prices are net, and are not subject to further discount, either for dealers or in consideration of quantity orders. It is our policy to price our items based on what we believe to be their fair market value. I do not set prices at absurdly inflated levels to take advantage of novices or "investors"; nor do employ the common ploy of starting with an unrealistically high price in order to "negotiate" a phony discount later. As over a third of our catalog orders are from dealers buying for resale, at our stated prices, we have every confidence that this policy maintains an ethical standard of integrity and fairness to all.
Newspapers are full folio size unless described as quarto (abbreviated 4to) or octavo (8vo), which are respectively smaller in format. Most newspapers have been removed from bound volumes and may exhibit characteristic minor spine weakness or separation without significant paper loss. Magazines are disbound from annual volumes and lack wraps unless otherwise stated, as these were very rarely preserved in the bound runs. Illustration plates are lacking unless described as present in the description, as most were framed by the original subscribers. Each catalog entry is briefly described for its general appearance, historical significance, and content. Every one contains hours of additional historic reading and insights into the world preserved on its pages, much more than I could find the space to describe here.
I pride myself on the quality and accuracy of my catalog descriptions, and strive to provide all the information needed to enable you to make an informed selection. Please consult my collector information pages and glossary of terms page linked below, if you are not sure of what any of the descriptive terms mean.
Your comments are always welcome, as are your inquiries, if you have questions about these historic collectibles. We value our customers, and appreciate the confidence you place in us when ordering from our online catalogs. We strive to merit your patronage and to enrich your collecting experience through accurate, knowledgeable descriptions, honest pricing, courteous service, and timely order filling. Enjoy your browsing!
Pictures of Cataloged Items
Scans or digital photos are available of many items in this catalog. To view them, click the "VIEW SCAN" button in the listing. You can return to the catalog by using your browser's "BACK" command. Illustrations are of the exact item being offered for sale and depict a full page or a detail close-up of a page of the issue. All papers are complete and undamaged as noted. Photos of newspapers described as "Atmosphere Issues" are of typical issues in stock and are provided to give an idea of the papers' general appearance. I hope to be able to provide pictures of all the items, as time allows and as I become more proficient with the scanner and digital camera.
Glossary of Terms Page | Collector Information Page | Want List Page | Home Page

Early Americana Catalog Index
Click on the highlighted Page Number to visit that page.